Illinois Superfund Research Center (ISRC)
The Illinois Superfund Research Center (ISRC) fosters innovation, basic research, technology development, bi-directional community-led activities, training and translational programs to avert the risk of cancer due to exposures from per- and polyfluoroalkyl substances (PFAS). We adopt a system-based approach to understand fate and transport, develop mitigation strategies, and create novel treatment technologies to degrade PFAS to minimize pollution and improve public health. Our cancer-focused center also identifies mechanisms to understand PFAS-induced carcinogenesis to suggest biomarkers and therapeutic targets that can empower community-led public health cancer risk reduction, prevention and intervention decisions and actions.
For Questions and Inquiries Please Contact Dr. Tor Jensen (ISRC Administration Lead) or Dr. Joseph Irudayaraj (ISRC Director)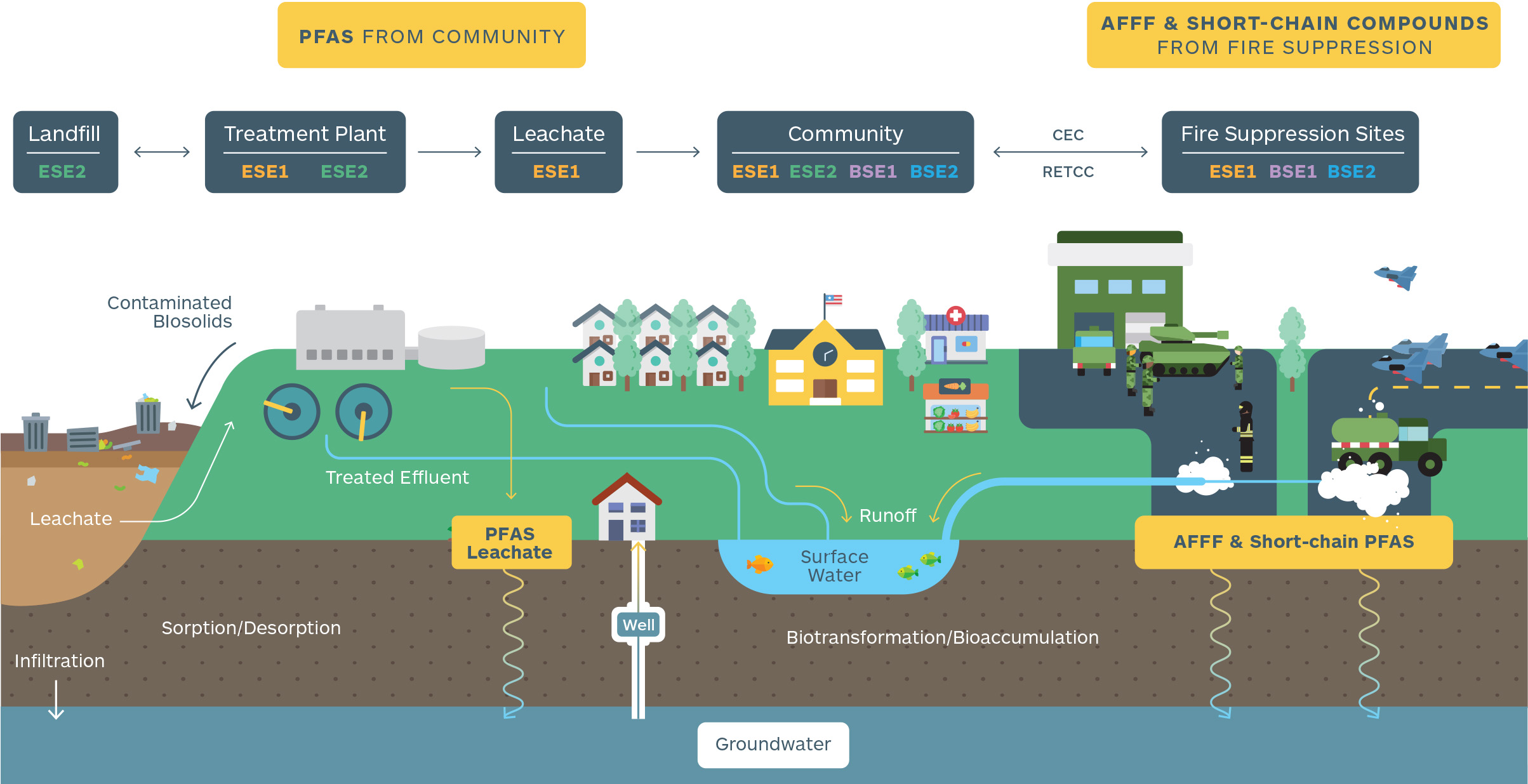 Exposure to per- and polyfluoroalkyl substances (PFAS) has been known to result in adverse human health effects such as developmental delays, reproductive problems, and the development of cancers such as testicular, kidney, prostate, breast, and others. Sometimes referred to as "forever" chemicals, PFAS are resistant to biodegradation and an estimated 99% of the US population have detectable PFAS in their blood serum.
Past work on PFAS has predominantly addressed legacy compounds with limited research on short-chain structures. Emerging PFAS are structurally more diverse and generally short-chain formulations. An emerging concern has been on transformation byproducts of PFAS due to partial remediation. A significant gap exists in our understanding of fate, transport, and mitigation of PFAS-impacted and artificial film-forming foam (AFFF)-impacted soils, biosolids, and associated drinking water contamination. Scalable technologies that result in complete destruction of PFAS are needed. While PFAS has been implicated in several diseases, its impact on mechanisms that trigger carcinogenesis are not well understood.  Our cancer-focused center paves the way to discovering convergent pathways for PFAS-triggered cancer. The two biomedical projects focus on understanding testicular and prostate carcinogenesis due to PFAS exposure from drinking water sources and the two environmental projects focus on elucidating fate, colloidal transport, mitigation, and remediation strategies to minimize or eliminate PFAS contamination. Specific knowledge gaps addressed are: 
Understanding colloidal transport of PFAS and breakdown products, 
Mechanisms of recalcitrance of partially-defluorinated products, 
Elucidation of molecular structures of partially-defluorinated products and complete fluorine balance during treatment, 
Determination of epigenetic and metabolomic pathways in an environmentally sensitive (testicular) and a developmentally sensitive (prostate) cancer, 
Effects of co-exposure to PFAS of various chain lengths and high-fat diet on carcinogenesis, and 
Evaluation of cross-talk between cancer pathways. 
The research projects and cores in the ISRC are led by renowned experts with deep technical, collaborative, and leadership experience. The resonating theme of the projects and cores are to "inform" and "guide" by leveraging our resources to maximize output and stimulate innovation. Resource sharing at all levels is a norm and coordinated through the Administrative Core, leveraging the expertise and resources of the Data Management and Analysis Core (DMAC) and Analytical Services Core (ASC). Our efforts will facilitate ease of annotation, recording and transfer of shared data through data management tools and intranet protocols. Trainees in Research Experience and Training Coordination Core (RETCC) will interact at all levels with DMAC, ASC, and Community Engagement Core (CEC) on workshops and outreach activities adopting the core principles of Responsible Conduct of Research. Bidirectional community engagement activities will constitute purposeful interactions of trainees with the community and in formalized activities as PFAS Research to Action Fellows. ISRC interaction and integration is detailed below.